The Irving Schools Foundation provides financial resources to maximize educational opportunities for teachers and students in Irving ISD by funding innovative programs, scholarships, and activities that enhance creativity, leadership, and academic success.
Your support directly benefits our students, educators, and community. Our 2022 Annual Report highlights the Irving Schools Foundation's greatest accomplishments of the year with a quantitative breakdown of our impact.
our team members turn the mission of isf into a reality.
The History of the Irving Schools Foundation
The Irving Schools Foundation was established in 1985 under the leadership of founder, Anne Pfaff and former Executive Director, Elaine Free.  Since its inception, the foundation has continued to create programs in response to the growing needs of our community. The Irving Schools Foundation exists to enhance education and empower students by removing barriers so that our students have an equitable future.
Irving Schools Foundation is founded
The Irving Schools Foundation established in May 1985 when the Foundation was incorporated as a 501(c)(3) nonprofit organization under the leadership of founder, Anne Pfaff and former Executive Director, Elaine Free.
Beginning of Breakfast with the Stars Scholarships
Every spring since 1987, we recognize the accomplishments of Irving ISD seniors and award them with academic scholarships. In 2021 alone, we distributed over 230 scholarships worth approximately $430,000 to students at all five Irving ISD high schools. Additionally, at every Breakfast with the Stars event, we award scholarships to two Irving ISD staff members seeking to further their education and training.
Inception of the Legacy Gala
The Irving Schools Foundation Legacy Gala, one of our annual signature events, celebrates both the richness of Irving ISD culture and the legacy of community leaders who have made lasting contributions to our mission over an extended period of time. Since the Gala's inception in 2011, proceeds from the event have generated more than $3.5 million in support of student and staff scholarships, teaching grants, and other ISF initiatives.
Creation of Spark Tank
ISF Spark Tank is our competitive grant program that awards funds for innovative, enriching, and out-of-the-ordinary classroom projects and learning experiences for students of all ages across Irving ISD. Since 2013, ISF has funded over 303 projects representing over $1 million and 180,000 students, teachers and staff impacted.
The Food for Thought Program is Initiated
A student who is hungry—or who is worried about whether or not they will be able to eat tonight—is a student who will struggle to learn. While the image of a hungry child is unpleasant to contemplate, the sad reality is that too many Irving ISD students—more than 75% of our student population, in fact— face food insecurity on a daily or intermittent basis. The good news? There's something that we can do about it, which is why Irving Schools Foundation created Food For Thought in 2019. We provide over 1,400 weekly food bags to our students—and with your help, we'll be able to sustain and grow this vital initiative moving forward.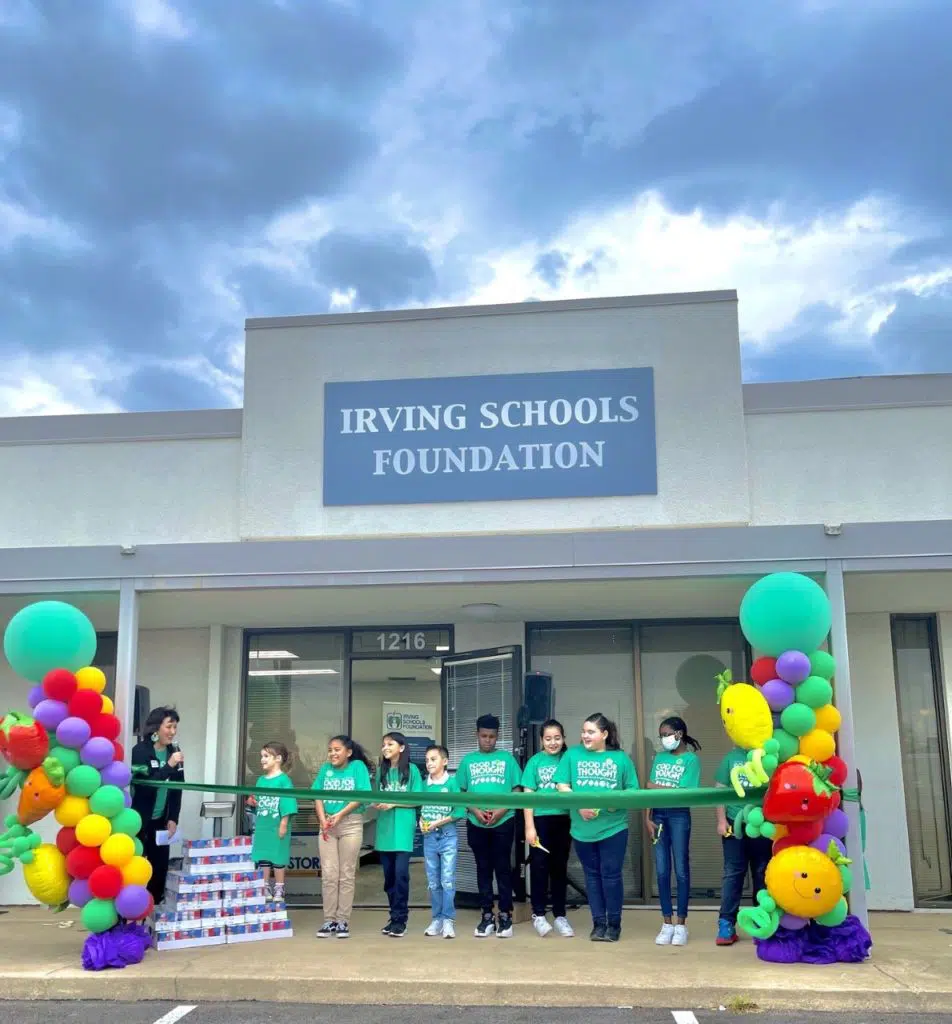 ISF Celebrates Warehouse Ribbon Cutting Ceremony
ISF celebrated the opening of the ISF Warehouse on March 29, 2022. Prior to opening the warehouse, the Food for Thought program operated out of two small middle school classrooms. The warehouse allows the Irving Schools Foundation to make a greater impact by providing more space for volunteers, food bags, and in-kind donations for the Irving ISD community. The warehouse is also home to the Uniform Closet and Community 2 Classroom (C2C) Store, the store without a cashier, which provides Irving ISD teachers and staff with free school supplies and other essential items for their classrooms and students.
Volunteers are the key to the Foundation's success. If you are interested in volunteering, please contact our office at [email protected]
get our newsletter to stay up to date